Who would have thought that hiking and technology went hand in hand? Our phones and smart devices can be a gratuitous distraction, but they can also serve a greater purpose when we're struggling in the wild. From navigation to stargazing to first aid and everything in between, there are a plethora of hiking apps that can come in handy when we least expect it. And there are others who can also help transform Mother Earth into a natural playground.
The technology at your fingertips can be a great asset, but it's also easy to get bogged down with too many virtual tools when venturing out into the wild. While there are some absolutely fantastic tools out there, there's also a lot of junk out there, and some of that junk still costs you the same amount of money, or even more, than the top tier ones. To help you maximize your outdoor adventures, we've compiled a guide to the best and most convenient hiking apps you can use on your next excursion.
All trails
Some of the best adventures are right under our noses. AllTrails is a hiking app that helps you find trails in your area, anywhere, curated by experts and rated by a large community of 35 million active users. Available on Apple and Android devices, AllTrails is really about exploring with over 300,000 routes around the world whether you're hiking, biking or running. You can also save your trips and share tips and routes with others. The Pro account also lets you view offline maps for areas with little or no cell service.
Cairn
While other hiking apps focus on the trails themselves, Cairn also focuses on safety. Providing cell service maps so you can find where to make a phone call in an emergency, this handy tool can also provide you with ETAs to your destinations and elevation information for thousands of trails around the world. Likewise, you can receive track alerts to let you know of dangers ahead, and you can choose multiple contacts to send updated location and destination information to if something goes wrong.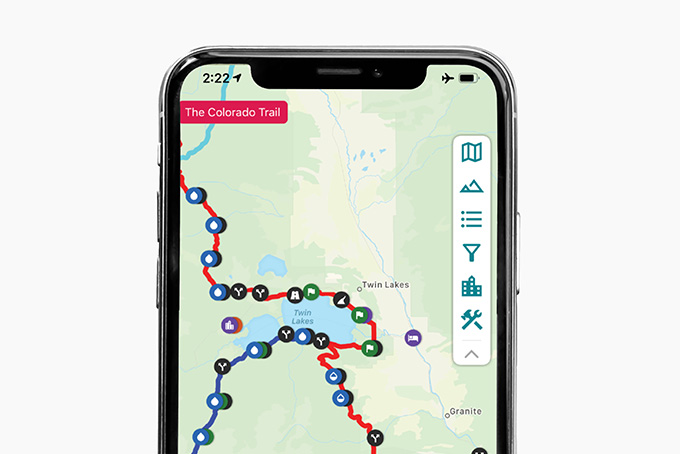 FarOut
Formerly called Guthook Guides, FarOut is the best tool for hiking and long-distance backpacking. Ranging from free to $80, the guides are each individually downloaded for offline use and come equipped with points of interest along the way, with plenty of details and photos for each. Each guide also contains information about the towns you will encounter along the way, as well as alternate routes and side trails. There are over 100 guides to choose from in the United States alone, including almost 300 worldwide, each of which has been peer reviewed by other users.
First Aid by the American Red Cross
Never find yourself in the middle of nowhere without the proper information on how to deal with the most unexpected injuries or illnesses, big or small. For everything from broken bones to asthma attacks, the American Red Cross First Aid app offers step-by-step guidance for many of the most common ailments you may have, with illustrations and videos to help . Even if you're not on the trails, this free app for all smartphones is useful in case you need some quick tips. You can also answer questionnaires to keep you informed in the event of a disaster.
Gaia GPS
Sometimes organic discovery is fun, but it's also comforting to know that a route has already been traveled. Available on Apple and Android operating systems, Gaia GPS is simply one of the best hiking resources. Similar to AllTrails, this app navigates countless routes, available on topographic or satellite maps. You can also collect your speed profile and elevation data along the way, and find nearby campsites. There's also a premium version, which unlocks offline accessibility and adventure maps for biking, skiing, and even off-road driving.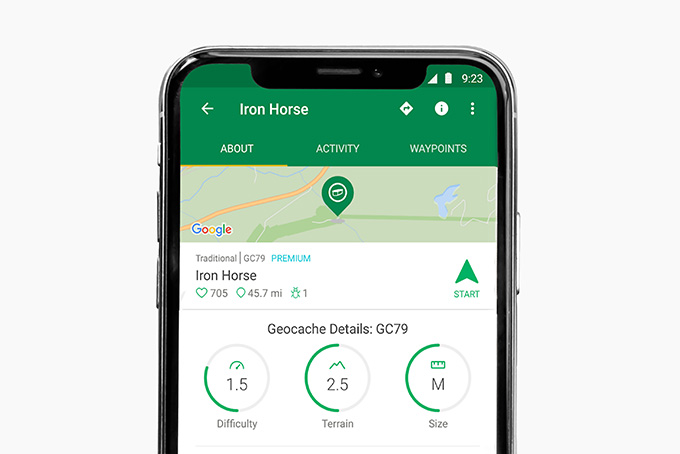 Geocaching by Groundspeak
If you're unfamiliar with geocaching, think of it as a global treasure hunt, or even a tangible version of Pokemon Go. Users all over the world are planting caches in containers like film tubes or boxes. shoes, then hide them in inconspicuous places. Once the GPS point is recorded online, the user uploads clues on where to find the cache. Whoever finds one can then add their own treasure to the container or swap it with what's inside. It can add an extra element to hiking and adventure, and even encourage others to do so. Geocaching is literally as old as public accessibility to GPS itself, and while there are several geocaching apps, Groundspeak's eponymous one is by far the most widely used with millions of caches hidden around the world.
3D Maps PRO
Sometimes it helps to visualize your route before setting off. Maps 3D PRO, an up-and-coming navigation app that adds a twist to the traditional format, brings mountains and streams to life with three-dimensional versions of your surroundings as you embark on your adventure through a combination of scans from NASA, Open Street Map and Official USGS Topographic Maps. Offline access ensures you can still navigate even if you don't have cell service, and your trip profile lets you know your elevation and pace. You can also save and share your past adventures with others.
The National Park Service app
If you're not a fan of books and brochures about Joshua Tree or the Great Smokies on every visit, look no further than the official National Park Service app. Fairly new to the app world, this free, comprehensive resource was created by park staff themselves and features fun facts and landmarks for every national park in the United States with an easy-to-use interface to get started. Each guide can be downloaded in advance for offline use, and the interactive maps allow you to explore the most remote routes along the way without having to worry about getting lost.
Oh, Ranger! ParkFinder
Don't let the minimalist display fool you, Oh, Ranger! ParkFinder is incredibly useful and user-friendly. A companion to the National Park Service app, it's a database of all of America's state and federal parks, as well as a guide to national forests, wildlife refuges, historic sites, and thousands of other recreation areas. Activities and waypoints are listed for each, with a system of filters so you can find what best suits your interests. Whether you're hiking or road tripping, Oh, Ranger! Is an incredible resource for discovering all that our country has to offer.
PeakVisor
While some trekkers like to stick to forests and hillsides, others prefer more daunting destinations. Luckily, PeakVisor can accommodate both, using AR technology to add an edge and an end goal to your next adventure. Simply point your camera at surrounding peaks, no matter how small, and the app tells you more, with facts and figures at your fingertips. Adding complexity to your hike, you can also better visualize available route options with PeakVisor's 3D topographic maps, which are also available offline. Import your own GPX files so you can also take custom paths.
Search by iNaturalist
The world around us is full of beauty and wonder, much of it in the form of Earth's natural flora and fauna. If you've ever hiked a trail and saw a flower or insect that you just had to know what it was, you should download Seek by iNaturalist right away. You can point your camera at almost any living organism and the app will identify what it is and provide you with information to find out more. Unlike other resources like this, Seek is completely free! Users with children will love the "badges" feature which earns you merits for finding different plants and animals and completing an array of challenges.
Star Walk 2
There are countless apps that specialize in detecting planets and stars overhead, but Star Walk 2 is among the best, and at a cheap price too. Catering to both astronomy experts and beginners eager to learn more, the app has an incredibly simple layout for users of all ages. It comes with a calendar of astronomical events for the year and even tells you the location of the International Space Station. Best of all, you can point the camera skyward and identify different stars, planets, and constellations on your next overnight trip, with fun facts about the night sky and everything in it.
Theodolite
Navigation sights do exist, but none of them are as light and practical – and easy to update – as the theodolite. Named after the centuries-old instrument used by pioneers such as Lewis and Clark, Theodolite is much more modern, with high-tech AR tools that use your camera to give you a fully informed real-time overlay, equipped with a compass, coordinates and elevation information, and many other features. However, this app is not for the faint of heart. Expert explorers will get the most out of its triangulation calculator, optical rangefinder, and sniper-style stadiametric graphics. Unfortunately for Android users, Theodolite is only available for iOS.
The 9 Best GPS Hiking Watches
If you want to add some tech to your wrist to enhance your outdoor experience, check out our guide to the best GPS hiking watches.